Ayubowan! Sri Lanka, the Wonder of Asia
Sri Lanka formerly known as Ceylon is a magical island nation south of India in the Indian Ocean. You will fall in love with golden beaches, lush green plantations, natural waterfalls, wildlife, and a rich cultural heritage with historical monuments spanning back 2500+ years.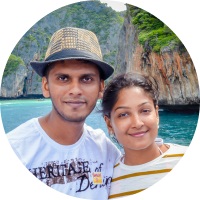 Who we are ?
Hi, We are Shadini & Malith, two native travelers. We love travel and our country. Our passion is to share fascinating and useful travel blogs of Sri Lanka on some of the must visit destinations. We are still exploring and working hard to give you some impressive info and photos. Read More About Us
We are glad you are here...
Plan your next trip in Sri Lanka.
So, Let's go Ceylon.