Finding Serenity at Dumbanagala Chalet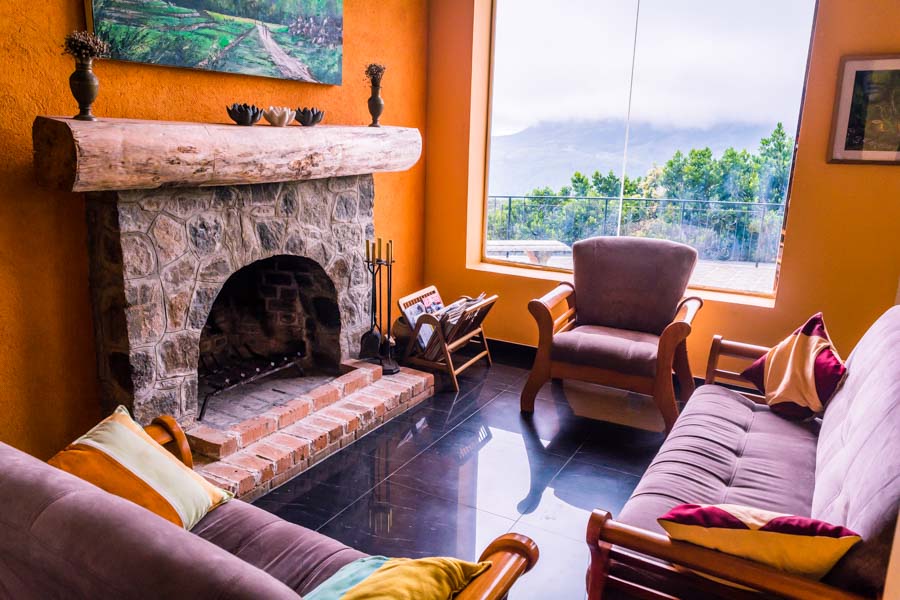 We've always been two travel freaks who has itchy feet for lots of adventure travel. Adventurous but for some safe outings ! One fine day me and Malith made our minds that we would once again head towards the dazzling mountains in our hill country to tackle in some awesome travel experience. So the destination was locked. It was "Meemure" that we were gonna head to. A scenic spot in the Central Province of Sri Lanka with an admirable climate and lots of thrilling activity to keep ourselves occupied.
So one Saturday morning with a travel gang of 6, hopped into a four-by-four vehicle and started the journey. A  four-by-four vehicle is much essential when going on adventurous rides; specially on the bumpy roads towards Meemure. Since we knew the ride would be around 5-6 hrs long, packed our travel gear and left our home town Moratuwa before sun rise to avoid the busy streets.
So how did we spot this amazing hideout "Dumbanagala Chalet" ? Well the whole credit goes to Malith 🙂 He is one expert in spotting out some spectacular accommodation I would say.  When we were finalizing our accommodation and the whole trip plan to Meemure, we decided that Dumbanagala Chalet in Hunnasgiriya would be one stunning location for our stay. It was just 13 kms away from Meemure.
In the midst of majestic  mountain ranges and an elevation of 1200 meters above the sea level, there lies the Dumbanagala Chalet. Over there, your life will simply speak a different language trying to map the real simplicity which is engraved in our life styles. The purest of air you will breath along with the real musicians of mother nature will keep you company.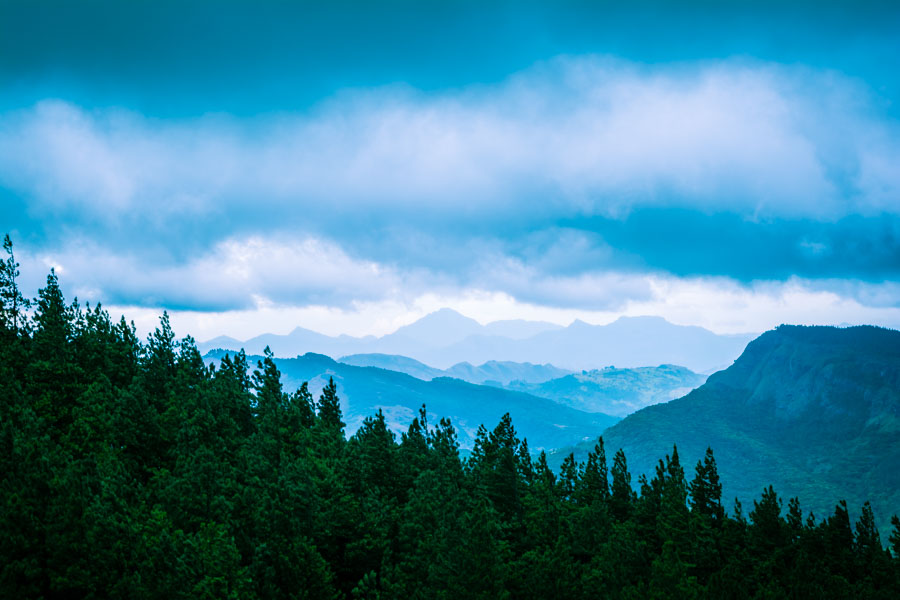 It was the Knuckles mountain range that made our view from one end of the chalet while the cozy rubber and pine trees stood tall on the other end of the locality. We traveled in the fourth week of June and that time is supposed to be one dry and windy season at Hunnasgiriya. But we were lucky to witness an unexpected rain in between the mountains. So the coziness in the environment just made our stay even more relaxing.
The bungalow was on top of a hill, much distant from the cities, with less disturbance from busy roads.  Again the closest city Hunnasgiriya is 15 kms away from the Chalet and it took us almost 1 hour to travel these 15 kms. However having limited access to internet and mobile network in the area complemented the stay ideal for us, the two busy buddies to relax our minds and souls.
The stony walls which stood tall and rigorous, almost gave us the impression that we were in some old roman castle. The wooden doors and windows, the tall ceiling with lovely chandeliers simply added on to the glamour of the chalet. It was greenery which covered the surroundings. Nicely pruned trees and bushes, flowers of different shades, wooden benches and the cool breeze around surely gave us the best entertainment of our two day stay at the bungalow.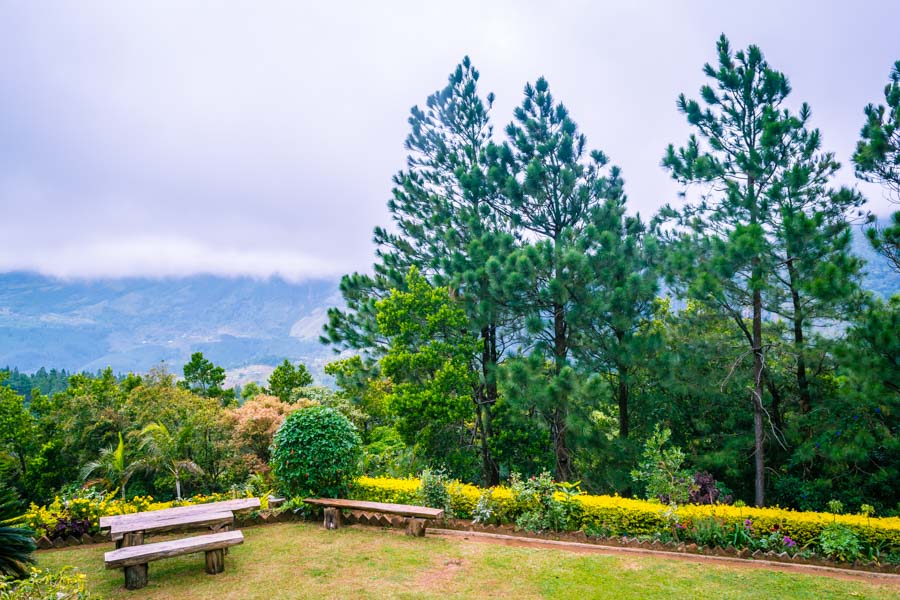 The well kept garden with lots of pretty Roses, Orchids and Daisies grown in it among the lush green Cyprus bushes made the place look like one stunning sanctuary which takes off your stress through just one glance. The blend of colors were such that Malith just could not stop taking photographs of the place as the textures were so irresistible.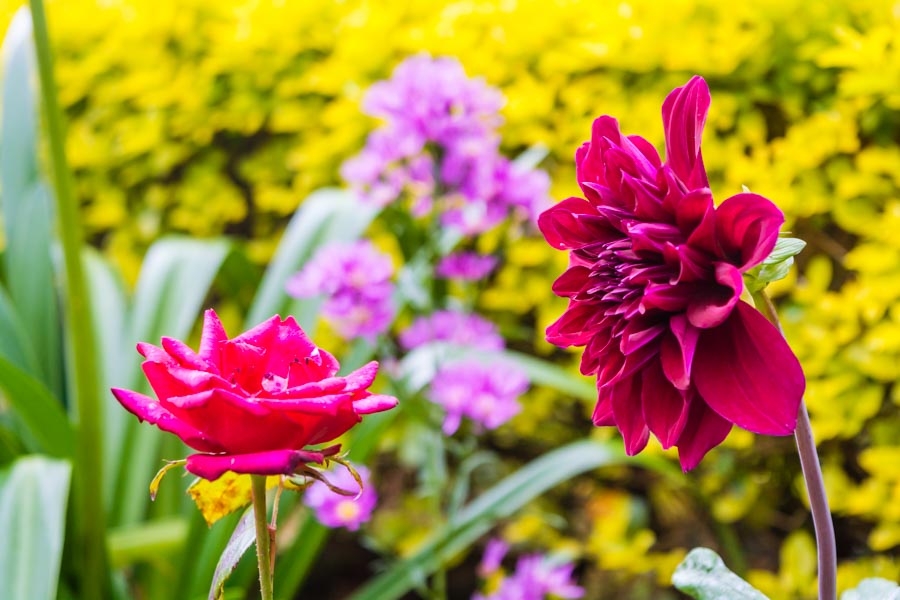 If I were to describe about me in a few lines. Well, I love to feel the rain, let my heart get soft in the rain and wash my mind to open up for more great travel write-ups. Yea that's me 🙂 . The weather around was just too good. While having some home made pol rotti, lunumiris and sipping a cup of hot black tea, both of us just enjoyed every bit of the evening, staring at the sprinkling rain drops from the tall wooden windows.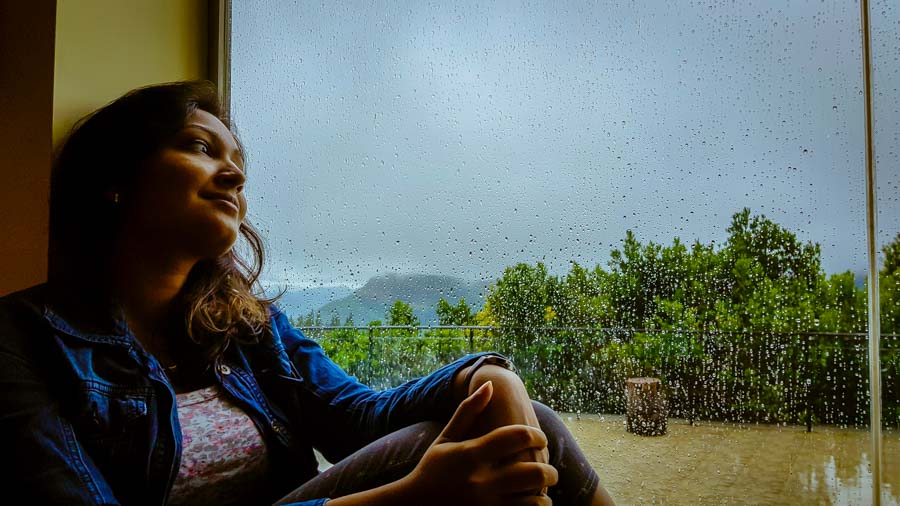 Despite enjoying the cozy weather, Malith was always busy checking out his captures from different angles of this serene spot and was trying his best to bring about something unique from our stay. Well he never gives up 😉 .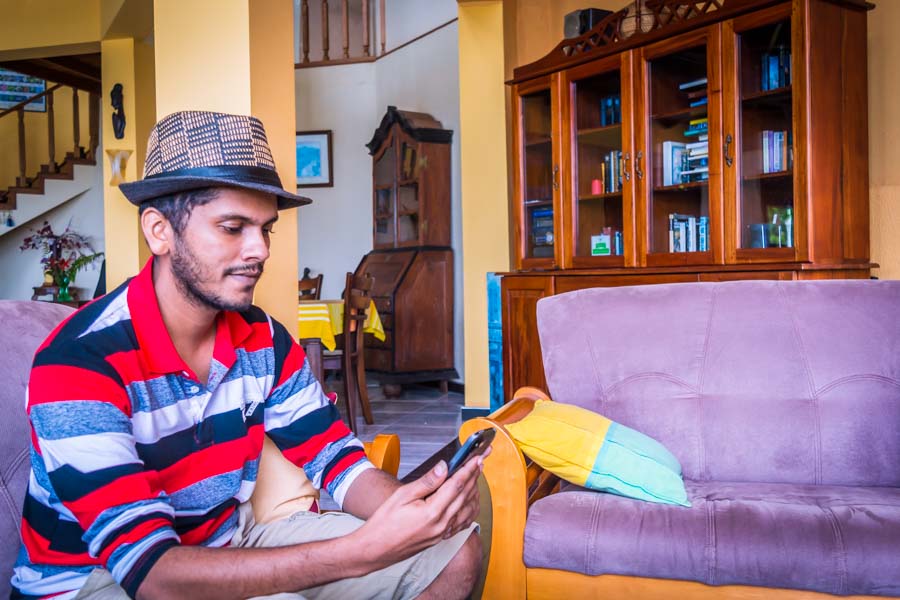 So a bit about the interior of the place. Everything about the chalet was so colorful. Lots of couches, cozy chairs, open balconies,  a fireplace to keep the temperature when the breeze gets too cool, antique ornaments, wooden cabinets,  vivid colored carpets along with the long supercilious dining table 🙂 simply gave us the bliss of a perfect home. We would say the morning time is the best time to enjoy the undisturbed views and its nature. It is misty but you can see further distance time to time. You will hardly notice a any building or a house. It is only nature.
Adding more to that, the beautiful paintings hanging on the walls around and also the charming wooden floor, stairway and ceiling also explained well of this unique hideout in Hunnasgiriya.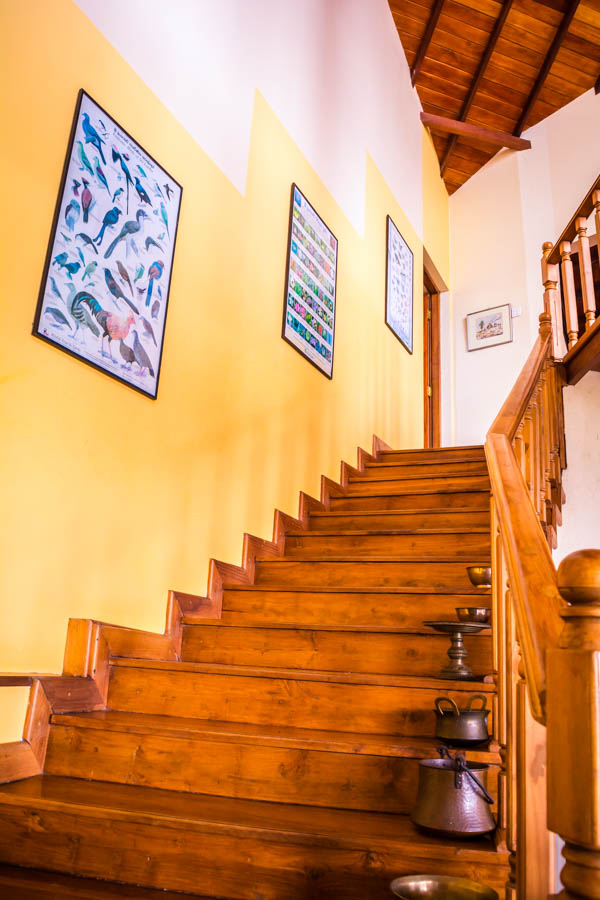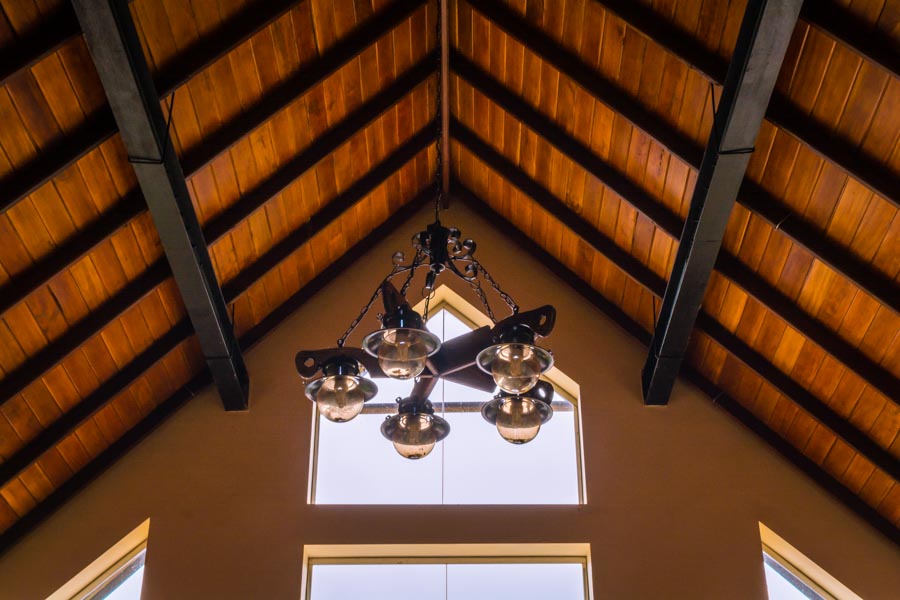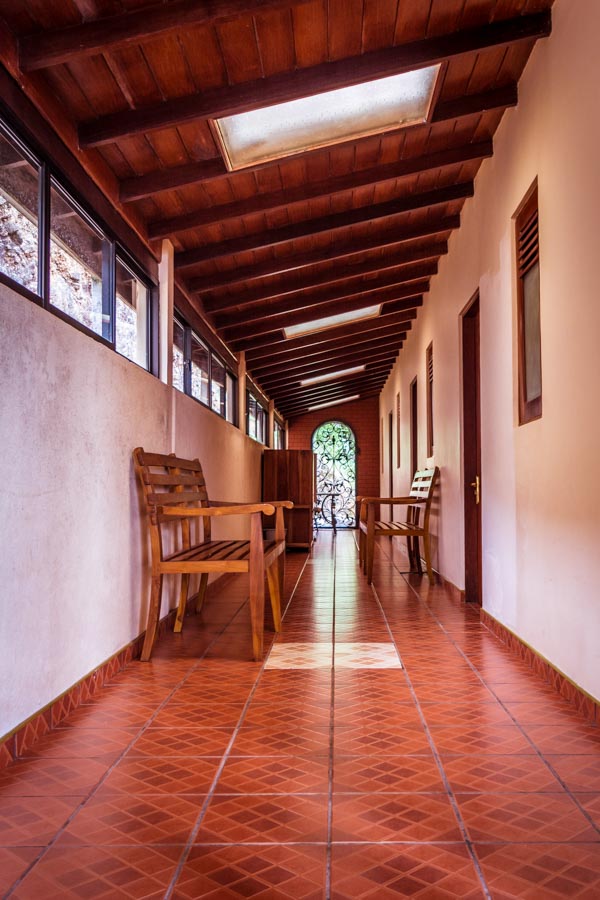 It was such a luxury bungalow in the woods. Once we talked to their Manager Kanchana, he told it had taken them almost 5 years to build the chalet, since this place is in a remote area and no proper carpeted road access to it.
The mini library was another interesting place where I spent a lot of my time. There was a decent collection of English fictions, love stories and also some reads about history and geography. So yea, every minute spent at the place was well utilized…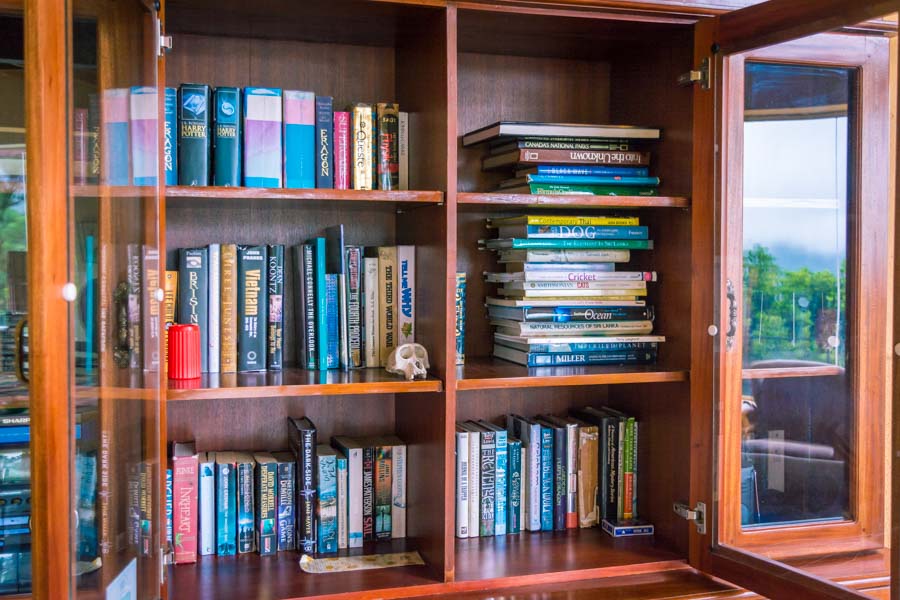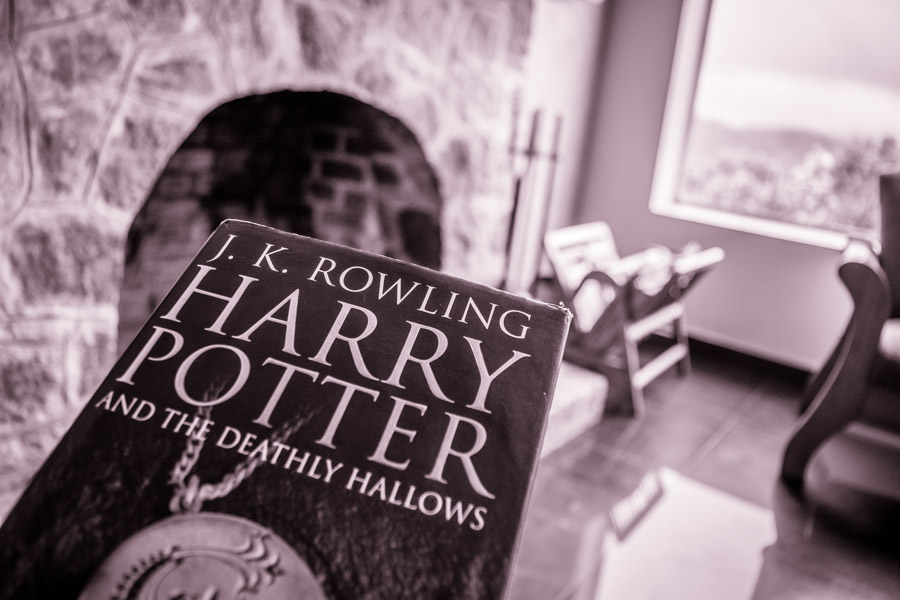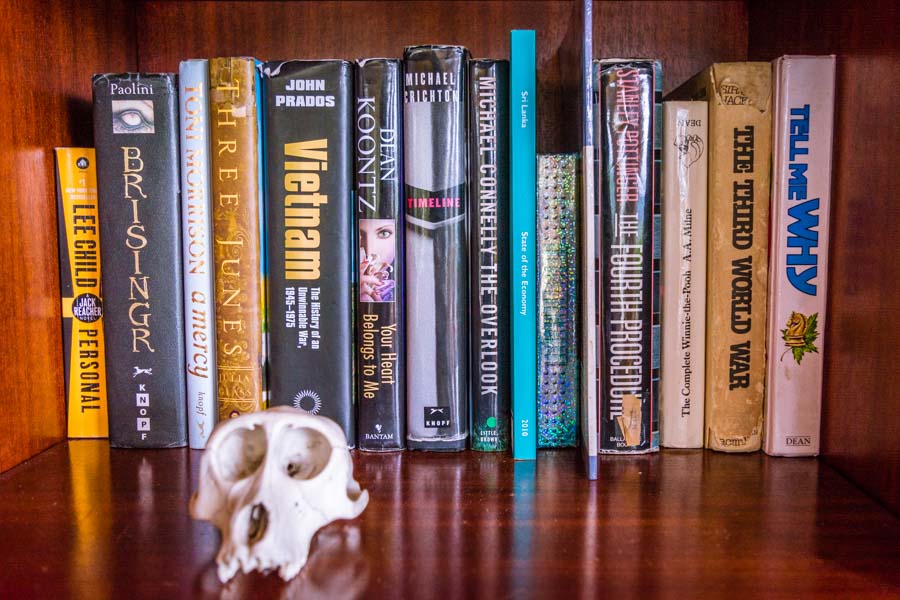 Malith did not forget the pack of cards which was lying on the shelf. So we two and our bunch of friends (four friends joined us on this trip) played 'Black Jack' one whole night along with some bites and some drinks. The night was so thrilling that we ended sleeping on the couches after a terrific session of cards and a round of ghost stories 🙂 .
The facilities at the place were all good. Their bed rooms were quite specious and clean with an attached washroom for each room.  Hot water was also available at the place generated through some solar panels. However limited access to internet was bit of a concern due to the distant nature of the locality.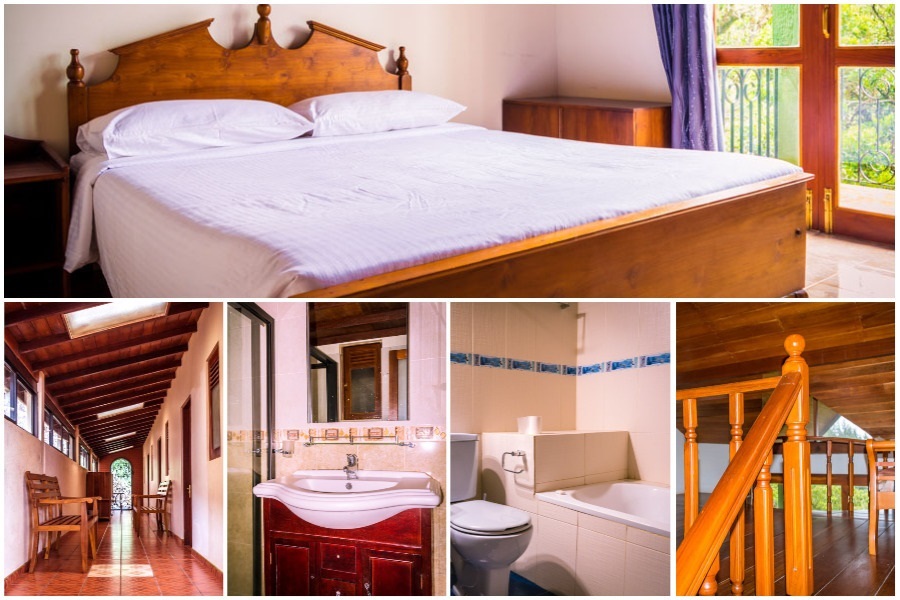 Nevertheless stepping out of the room into the private balcony for a breath taking vista or sit in front of a roaring fire in the dining room on a cold misty morning with a cup of hot freshly brewed Ceylon Tea just made our day so refreshing.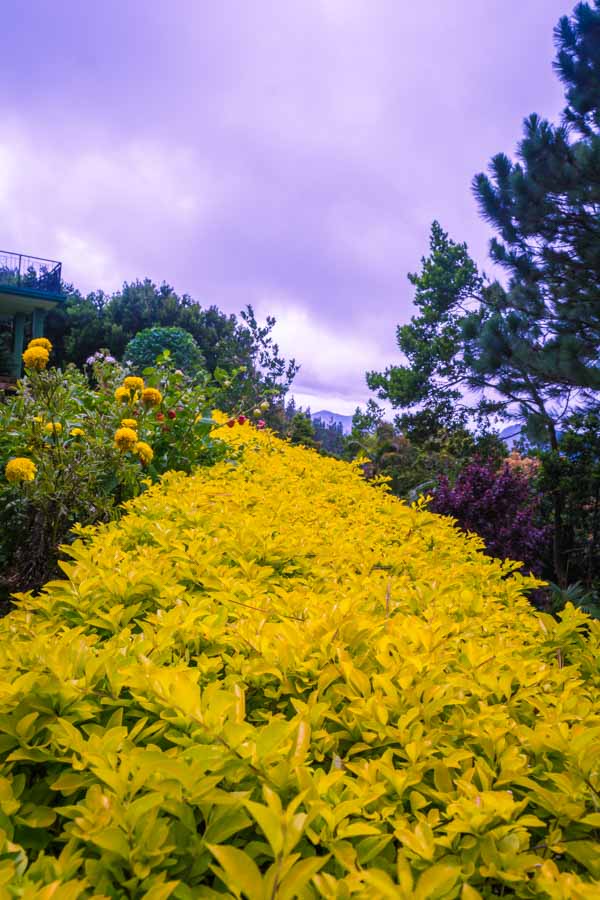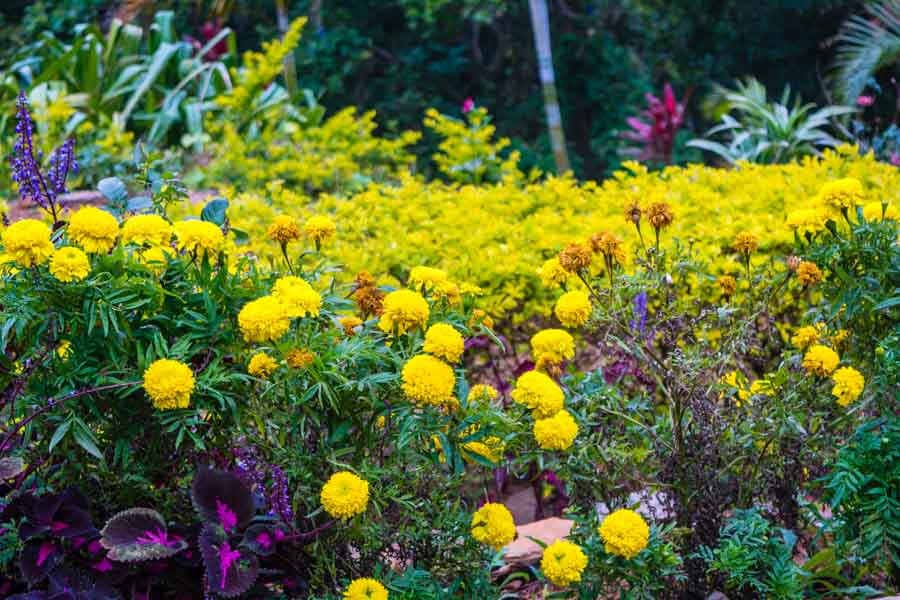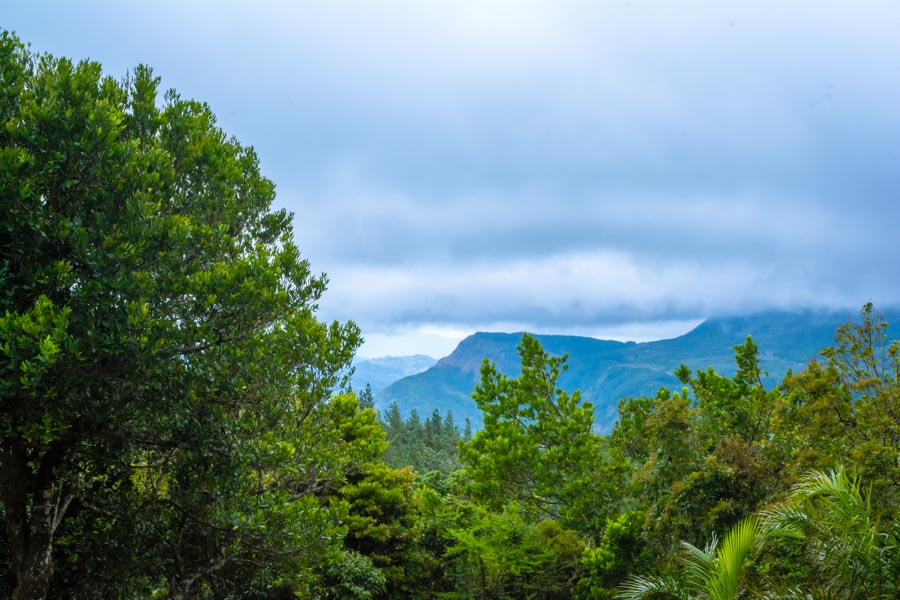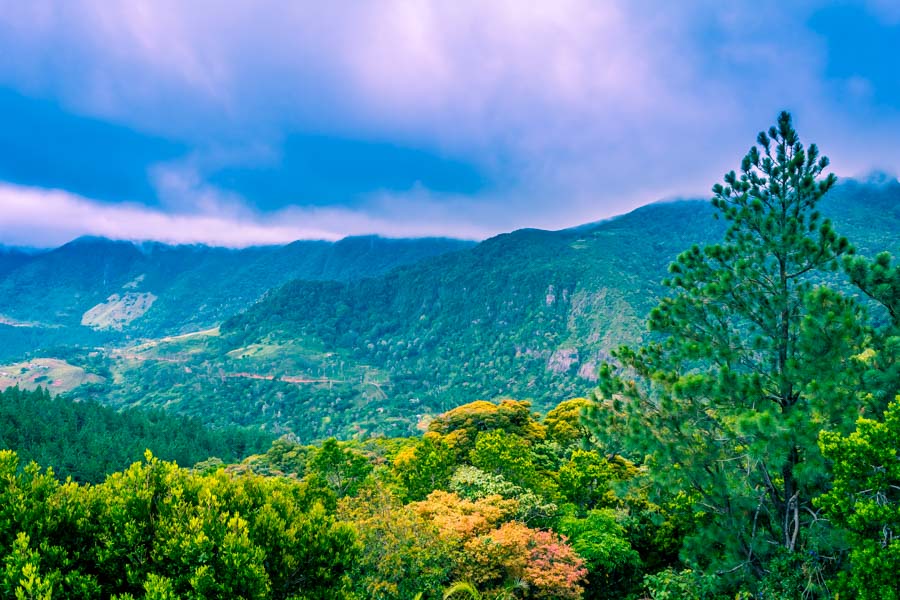 So if you are some nature lover or a bunch of travel nerds, well this is a nice spot to spend some quality time whilst being distant from your normal busy schedules. All of the above comments are our own individual thoughts and impartial.
About Food
I would say it is a different story at Dumbanagala Chalet when it comes to food. Due its difficulty of access to the closest city, you will hardly find something on demand. There are no shops that you can find stuff on your way to the place. Also, there is no menu card or restaurant that you can order something whenever you want from Dumbanagala Chalet. If you do not wish to stay on the full board option, you have the flexibility of bringing in your own food including your milk for bed-tea. They will be happy to prepare your meals at a very reasonable cost to you. The cooking charge was LKR350.00 per person for all three meals, but that can be negotiated with your meal plan.
We also did not want to go on full board option since we had a plan of traveling to Meemure. But we got food with us including milk for bed-tea.
TIP : Before you hit the place communicate your meal plan with the manager.
Rates and Contact Info
LKR15,000.00 : Full board double room with a private balcony and views to Knuckles Mountain Range
LKR40,000.00 : Whole cottage with all 6 rooms per night without meals
You can always visit their website for more information www.dumbanagalachalet.com/Since we omitted the full board option and we got 3 rooms including one big family room for LKR20,000.00 for a day.
Contact No of the Manager, Kanchana | +94 718 377 576
Hope you will also like Dumbanagala Chalet, the lovely place we've been talking about. Please share your thoughts in the comment section below. If you enjoyed this blog post, please share it with your friends. Thank you!
Happy Travels everyone! XoXo
Shadini & Malith